Undisruptable is out in the stores now, and on audio/e-book. Here are some reviews:
Zoë Foster Blake Review
Zoë Foster Blake has impeccable cred in both writing books and creating businesses, so her review of Undisruptable means a lot. Also I've not been called a rascal once in my life, not even by my mother, and I LIKE IT.
"An Australian Business Classic"
Cyan Ta'eed is one of Australia's leading tech entrepreneurs. The company she co-founded, Envato, is a global success story.
Read her full review post here:
Some of her thoughts on the book:
"Undisruptable by Ian Whitworth is one of the best business books I've ever read – and I've read a lot of them. Not only is it full of business/life wisdom and advice from someone who's actually done it, but is entertaining enough (hilarious, actually) that I didn't want to put it down."

"This is a hand on heart recommendation for a book I believe is going to become an Australian business classic. I have about 10 books I plan to make my children read before they move out of home and this book is now on that list."
What's So Funny, Dad?
Elsewhere in her post Cyan talks about her kids demanding she read passages out loud because they wanted to know why she was laughing. I didn't think that would become a thing, but reader Dan writes:
"First of all my kids kept asking me why are you laughing? I would read passages to them hoping they would get it! They pretended to, however what I found interesting is for the first time we were talking about business, ethics, strategy, values and god forbid – MONEY! More importantly I found myself genuinely inspired – I could relate to everything Ian talked about, some good some bad, I'm pretty sure I had tears in my eyes one morning relating to a particular chapter around stressful times. Then he made me laugh again. It's a great read – you must do it if you are in business, thinking about it or dreaming about it."
"I Really Want Women To Read This Book"
I love this one a lot. Reader Fionn, one of Australia's major legal brains, writes:
"This is a business book written by a man that is equally as valuable for women who currently run their own business or are considering starting one. So often, books by men in business only have a male audience, and books by women, only a female one. Ian Whitworth somehow doesn't seem to think about or mention gender, but he nonetheless treats his audience as *people* – people who are interested in business. There is not a single line in it that ignores the reality of business for women – Ian somehow manages to just put gender aside, seemingly unconsciously, and just give great advice that works equally as well for women.


"I mention this because I really want women to read this book. If you find a lot of male business writers hard to relate to (at best), this book is for you. Get it. You won't regret it."
(Disclosure I'm on the Advisory Board of her
firm
).
Until I started spending time in book sites when mine came out, I had no idea they literally categorised business books into Business Books For Men and Business Books For Women. While I get why, I find that rather depressing.
I've been lucky to spend a lot of my career in the event industry, so lots of my business owner mates are women, and hopefully that comes across in the book: it's all just business, how about we all just act like normal adult people?
"Throw Out All Your Business Books"
Reader Ben, Australian boss of a global brand you've all heard of,
says
:
"Throw out all your business books. Ian Whitworth brings his highly popular and valued musings to a single source. Can a business book be action packed? I think so. Highly recommended."
The folks at Penguin tell me that lockdowns are brutal for new authors, because the stores are where readers discover new books. In lockdowns book buyers just get online and order a page-turner from James Patterson or someone else they know.
But: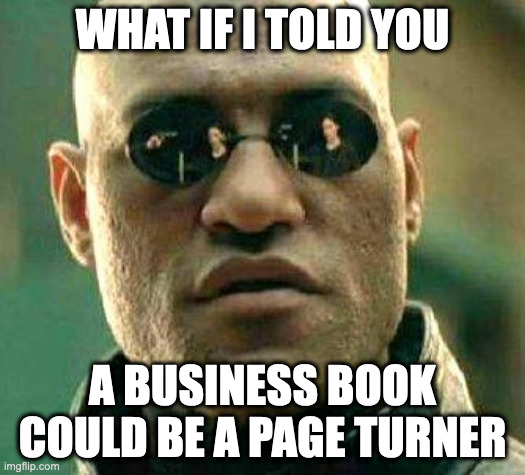 "If you don't think a business book can be a page-turner – try this one for size … this is the perfect gift."
And speaking of writers:
The Kitchen Confidential Of Business Books
Reader Catherine writes:
"I loved reading this book. It's laugh out loud funny in the same way that Anthony Bourdain's Kitchen Confidential was. I don't usually read business books but Ian can sure tell a funny story. Buy it for your "friends who have everything", they'll love it!"
This is as good as it gets for me. I loved Bourdain's books a lot. Undisruptable was literally written with the aim of being the Kitchen Confidential of business: entertaining tales, calling out bullshit, but all underpinned with a deep love of a worthy subject. Thanks so much Catherine!
Is that enough for you? Are you going to buy a copy, plus one as a gift for your friend or relative who's thinking about some business idea or career and could use some experienced guidance?
Why the hell not? Get it here: